"I got on Titanic when I was under-aged!" - John, 1912

'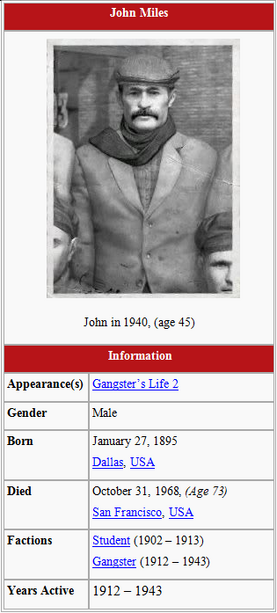 '
John Miles
(January 27, 1895 - October 31, 1968) was an American Gangster who was active in the period of 1912 - 1943. His father was
Jason Miles
and his son was Vito Miles. His great-grandson was
Desmond Miles
, the protagonist of Assassin's Creed 1, 2 and 3.
Early Life (1895 - 1912)
Edit
John was born on January 27, 1895. He lived a normal childhood. He studied in school from 1902 - 1913. His father was Jason Miles. His grandfather Mason Miles, who has changed the surname from Kenway to Miles in 1855. 
Titanic (April 15, 1912)
Edit
On April 15, 1912, when he was 17 years old, he got on Titanic to go to New York after he had been in England for an estimated time to study abroads. He survived the disaster. He was on the ship with the Machiavelli Family but they didn't know each other was on the ship. He had a broken arm after a fall from the peak of the ship, but the arm was OK after 1 month.
Life as a gangster (1912 - 1943)
Edit
He lived in Lost Heaven for a while, where he had many missions. He made many drug deals, from which he made many money. In 1925, his son Vito was born and he had to save him till he was 10 years old to tell him about his job. In 1943, after his son returned from WW2, he retired and made his son a Boss.
1. He is the protagonist in GLAC3.
2. His inspiration came from Antonio Scaletta from Mafia 2.