"Let's win the fucking war!" - James, 1945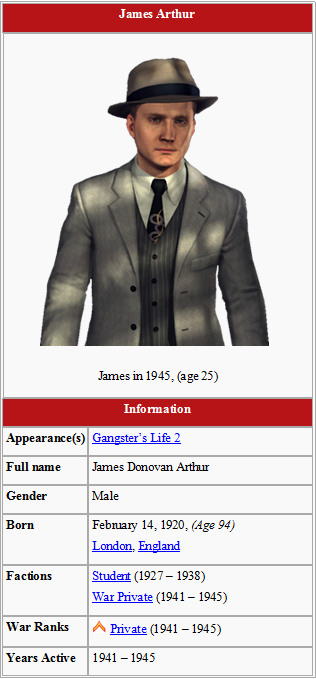 James Arthur
(born February 14, 1920) was a soldier in World War 2. His rank was a Private. He was in the group of
Jimmy Machiavelli
 who was his Sergeant.
Early Life (1920 - 1941)
Edit
James Arthur was born in London on February 14, 1920. He studied in school in the period of 1927 - 1938. He lived a peaceful life as a civilian until USA entered World War 2 in December 1941.
World War 2 (1941 - 1945)
Edit
James took part in the Pearl Harbor Attack. Since then he took part in most of the battles in WW2 with his group of Joey, Jimmy, Hashimoto, Gerasim, Grigorov and Versace.
1. He is the oldest character in all the series, reaching the age of 94 and is still alive. The second one is Mason Miles who died at the age of 89.