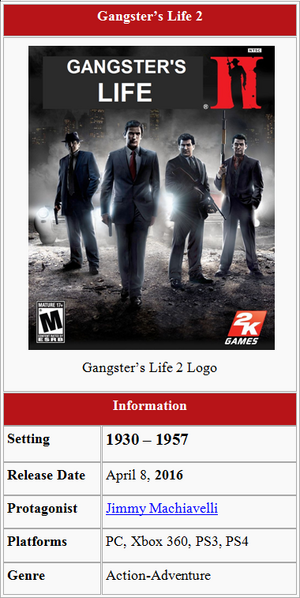 Gangster's Life 2 is the second game of the GL Franchise. It is set in the period from 1930 to 1957. The protagonist of the game is Jimmy Machiavelli! At the beginning of the game he is 17 and at the end of the game he is 45. In t
he game there are many events which took place in the middle of 20th century!
During the game Jimmy has many missions and participates in many events like the World War 2! During the game he meets his first wife Judy and has his son - Charly!
The game begins in 1930, when Jimmy is 17. The story starts when his parents are assassinated by Michael and Danny! At the time he sees his parents dead he swears that they will pay for what they've done! At this time, he enters the Familia to gain the skill to kill his parent's assassinator! He has several missions in the period of 1930s, 1940s and 1950s! At the middle of the storyline, Jimmy participates in the World War 2! The game ends in 1957, when Jimmy gives the heritage to Charly, when he is big enough to be the next gang boss!