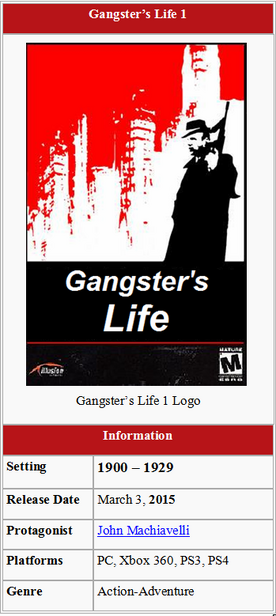 Gangster's Life 1 is the first game of the GL Franchise. It is set in the period from 1900 to 1929. The protagonists of the game is John Machiavelli! At the beginning of the game he is a teenager at the age of 15 and at the end of the game he is 44. In the game there are many events which took place in the first third of 20th century!
During the game John has many missions and participates in many events like Titanic and the World War 1! During the game he meets his first wife Maggie and his second wife Marilyn and has his sons - Joey and Jimmy!
The game begins in 1900, when John is 15. He is a teenager who gets into the gangster's business and gets to know it, when in 1903 he enters the Famillia! In 1908 he meets Maggie and after several missions he falls in love with her and marries her in 1910! Later in 1912, he decides to go to a trip to his homeland Italy and then to return with Titanic to the USA! There he loses Maggie after she falls off the ship when it was in vertical position exactly when she gave birth to his second son - Jimmy! John has several missions in the period 1903 - 1929! The game ends in 1929, when he is already too old to do missions and gives the heritage to Jimmy who becomes the next Boss!
1. That the first game which opens the saga with the Machiavelli Family!