"He must be assassinated!" - Jimmy, 1945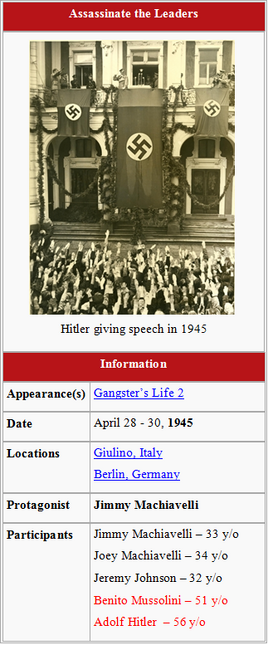 Assassinate the Führer is the 15th mission in Gangster's Life 2, involving Jimmy, Joey and Hitler and Mussolini. It is set in April 28 - 30, 1945 in Berlin, Germany.
Story (April 28 - 30, 1945)
Edit
April 28, 1945 - Benito's Death
Edit
Jimmy goes to Giulino, Italy to kill Benito Mussolini! He finds him in a car and when it turns right at a small street, Jimmy shot him in the head and Benito died there instantly.
.
April 29, 1945 (morning) - Benito's Corpse
Edit
Jimmy and Joey saw the corpse of Benito Mussolini! They removed it from the guillotine and by several citizens they learn that Hitler's gonna wed the same day. They had to go from Italy to Berlin for less than 4 hours!
.
April 29, 1945 (afternoon) - Hitler's Wedding
Edit
Jimmy and Joey went to Hitler's wedding with Eva Braun. They participated the ceremony and eavesdropped some important information for the next day, like where to find Hitler.
.
April 30, 1945 - Hitler's Death
Edit
Jimmy and Joey went to Berlin to assassinate Adolf Hitler! When they arrive, they find him giving speech to some people. Jimmy starts to climb the building to air assassinate him from the balcony where he is giving his speech! When he tries to do that, Hitler returned inside and he assassinated nothing! Then he escaped from the policemen who chased him and enterned inside the building! When he went inside, he found Hitler and his wife Eva Braun in the nearest room and kills Hitler. Then Jimmy put some pills to look like a suicide and flew away!